Posts Tagged 'monkeys'
1 item.
March 27th, 2009
|
by Tom
(
9
votes, average:
8.00
out of 10)
I wish I had a little more room in the comic to really capture the epic-ness of a Monster versus Alien versus Robot versus Ninja versus Monkey beat down. I hope the ASPCA doesn't mind that I put a shuriken between the eyes of Bobo there.
I'm still pretty pumped to see Monsters vs. Aliens this weekend even though some reviews are starting to come back negative. I guess some are complaining that it's kind of short on laughs and not very innovative. Some people are saying it's the Bad Old Days of Dreamworks Animation and not the blockbuster Kung-Fu Panda was.
I suppose maybe some of that is to be expected. After all, the director is the same guy who wrote and directed Shark Tale. But I don't care. I just want to watch something fun, bright and colorful. MVA fits the bill. Heck, I think I'm even going to shell out a few extra bucks to see it in 3D! Why not? What else am I going to see A Haunting in Connecticut? I think not. I'll report back later with my findings.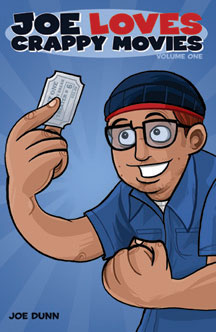 I don't have very much to talk about today. So, instead, I'll take this opportunity to point you to my good friend Joe Dunn's web comic Joe Loves Crappy Movies. Joe recently made a big announcement. His first book Joe Loves Crappy Movies: Volume One is now available from his site.
You guys really gotta check this out. Odds are, if you're reading Theater Hopper, you're probably already reading JCLM. But if you're not, you're gonna love it. Joe put a lot of work into this book to really add value beyond what you get on his site for free.
Most impressively, he's selling "Artist Editions" of the book featuring kick-ass original sketches inside. People who order before Sunday get upgraded for free! You gotta look at the work he's doing with these sketches. Check out this thread in his forum. They're amazing.
Joe's a great guy and I really want him to have a lot of success with his first book. So maybe you can take some of your tax return and invest it in something you're really going to enjoy. Take my word for it.
That's all I have for today. Thanks for reading and I'll see you guys next week!